I'm often asked by clients whether they should start a blog and whether this can really generate leads and new business. My answer is usually 'yes' and 'yes'.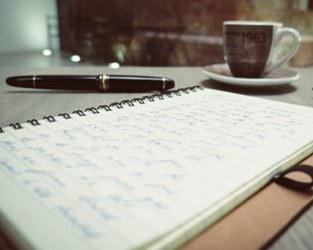 But (and this is probably the bit you don't want to hear), blogging is not a quick win.
You do need to establish your blog and build your profile as a thought leader in your specialised area – which takes time and careful planning. It doesn't happen overnight.
But blogging will help you to raise your business profile online and bring you in front of new clients. And it can do so dramatically in some cases, as the following example will illustrate.
I write regular blogs for a Hampshire manufacturing company. You'll see below the difference in website traffic from the pre-blogging days in 2013 to three years later – with a three-fold increase.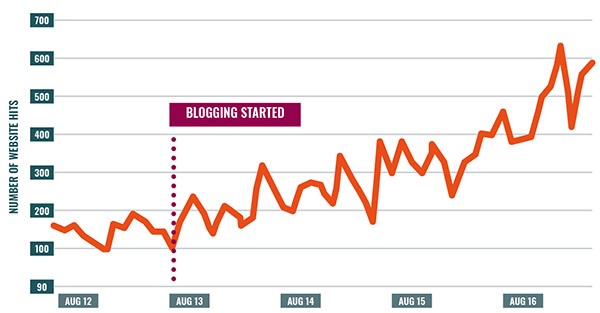 By 2018, there had been a 400% increase on the previous two years, which had a positive impact on new business enquiries.
Hits on your blog will mean more hits on your website, which will increase your online visibility.
But how can you increase the value from your blog? Here are just a few guidelines for getting the most out of your blog and connecting you with new clients.
Blog writing tips
Content is king– make sure that your content is interesting and relevant. Don't underestimate the importance of the quality of your writing. Low-quality blogs stuffed with keywords will not rank highly for organic search purposes.
Make it topical. This will grab readers' attention. A topical blog will drive more traffic to your website. My most read blog? A piece on Donald Trump's poor spelling!
Give your expert view. Build your profile as a thought leader in your field by demonstrating your knowledge and expertise to your readership.
Do your keywords research – make sure that your blog includes appropriate keywords and phrases to enhance your website's SEO (search engine optimisation). So, if you sell scented candles online, you'll be looking for phrases that searchers use – such as 'scented candles', 'luxury candles' and 'home fragrance'. This will bring your blog in front of more readers. These days, you may find it difficult to score highly for broad terms so find some niche phrases. Using the earlier example, if you sell sustainable candles, why not include 'vegan candles' as a topic and key search term?
Use tags and categories – this is the best way to 'organise' your blogs and improve the 'user experience' on your website.
Invite feedback – allow readers to post comments and responses to your blog posts. This will encourage dialogue and start that all-important conversation.
Blog regularly – this is vital and not advice I always follow for my own business as I'm so busy writing blogs for my clients! You will earn Google 'brownie points' for regularly updating and refreshing your website content.
Use a professional blogger/copywriter – writing blogs takes time…time you could be spending on your day job. Why not hire a professional copywriter to take on this task – ensuring that your blogs are well-written and crafted for SEO?
Blog writing services
Here at Bright Words Creative, we can take care of all aspects of your blog writing – from generating story ideas through to regular blogging and tracking. Call us on 07767 252464 or email info@brightwords.co.uk for details.